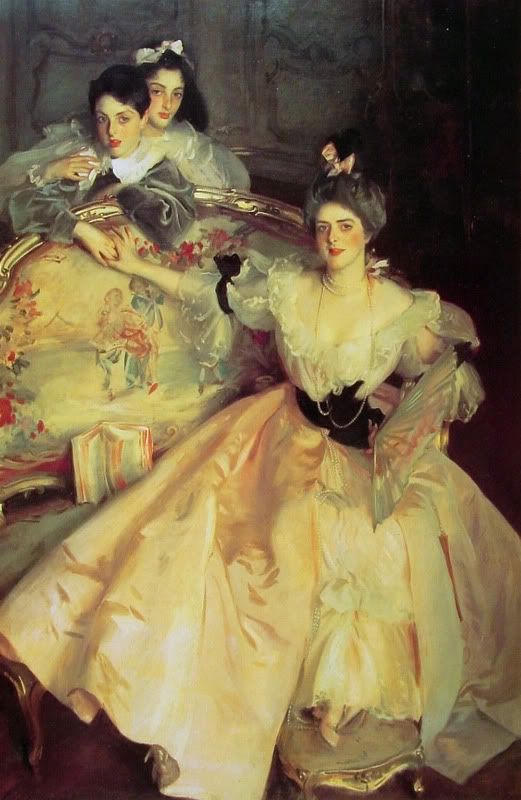 Mrs Carl Meyer and her Children
САРДЖЕНТ, ДЖОН СИНГЕР
(1856–1925), американский художник, мастер портрета, совместившего черты импрессионизма и модерна.Родился во Флоренции 12 января 1856 в семье американцев. Учился во флорентийской Академии художеств (1870–1873) и в Париже, в мастерской модного портретиста Э.О.Каролюс-Дюрана (с 1874). Впервые побывав на исторической родине в 1876, в дальнейшем лишь постоянно наезжал в США, живя в основном в Париже (до 1885) и Лондоне. Испытал большое влияние Э.Мане, а также (после того как побывал в 1879 в Испании и в 1880–1882 в Нидерландах) Д.Веласкеса и
Ф.Халса.

.

Миссис Фиске Уоррен (Гретхен Осгуд) и ее дочь Рахель.



Lady Agnew of Lochnaw.



Мадам Икс.



Миссис Джон Дж. Чапман
(Элизабет "Бесси" Уинтроп Чанлер)



Мисс Иден.1905.



Леди Иден.1906.



The Misses Vickers.



Madame Paul Poirson.



Mrs Wilton Phips.



"Дочери Эдварда Дарли Бойта"



Эти две японские вазы,которые изображены на картине,были подарены музею наследниками семьи Эдварда Дарли Бойта.



Mrs. Hugh Hammersley.



Alice Vanderbilt Shepard.



Mrs. Ralph Curtis.



Portrait of Jeanne Kieffer.



Портрет леди Хелен Винсент, виконтессы d'Abernon.